International Festival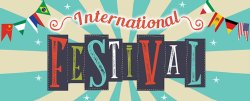 What

International Festival

When

2/2/2019

Where

Mays Building
What?
Meridian's 2nd Annual International Fest is a time to celebrate cultures from around the world with a variety of international performances and activities.
When?


Week leading up to 2/2, with some activities taking place during the school day and culminating in an event for all families on Saturday from 10am-2pm.
Friday 2/1 – World Parade (for students during the school day)
Classes will participate in an all-school parade, which will take place outside on a route to be determined
Students can dress in clothing referencing a country and march with that country or observe as spectators
Read more and sign up HERE!
Saturday 2/2 – International Festival
10am – 3pm visit booths, get your passport stamped, attend student performances, and more!
· CAFETERIA and PATIO – World Walk – Families and secondary clubs will set up booths for students to "visit" different countries and get their passport stamped.
Sign up to host a country HERE!
· GRASSY FIELD - Secondary clubs will be offered the opportunity to provide internationally-themed activities as a fundraiser
· MAYS GYM - Student performances at scheduled times throughout the day. All students who participated in the World Parade are invited on Saturday morning to represent their country again and be a part of our opening act, the Procession of Countries.



Performance Times (Mays Gym)

10:15 Kinder & 3rd Grade

11:15 1st & 4th Grades

12:15 2nd & 5th Grades

1:30 Secondary Talent Show
Copy to Google Calendar
•
Download iCal Event