World Parade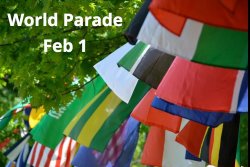 What

World Parade

When

2/1/2019
Sign up HERE by January 30!
Last school year, Meridian purchased 70 flags, which were held by seniors in the all-school photo celebrating our status as an IB Continuum school. The flags were chosen after parents shared with us the countries that are special or significant to them.
These flags will be part of our World Parade on 2/1, when students will be given the opportunity to participate in an all-school parade by dressing in clothing representing one of the 70 countries/territories. Students not dressed in special attire will observe as spectators.
Students should wear their clothes to school and keep them on for the day...or bring accessories to quickly put on and off. Being our first year, we're sure to learn a lot from this experience and will count on your thoughts and suggestions as we move forward.
Below is the list of flags. For planning purposes, we ask that you sign up your student no later than Wednesday, January 30.
Argentina
Australia
Bahamas
Belgium
Brazil
Cambodia
Canada
Cherokee
China
Choctaw
Colombia
Costa Rica
Cuba
Czech Republic
Ecuador
El Salvador
England
Ethiopia
France
Germany
Ghana
Greece
Guam
Haiti
Hong Kong
Hungary
India
Indonesia
Ireland
Israel
Italy
Japan
Jordan
Kenya
Kiribati
Lebanon
Libya
Mexico
Navajo Nations
Nepal
Netherlands
New Zealand
Nigeria
North Korea
Norway
Pakistan
Palestine
Panama
Philippines
Poland
Portugal
Puerto Rico
Russia
Scotland
Sierra Leone
Singapore
Slovakia
South Africa
South Korea
South Vietnam
Spain
Sweden
Switzerland
Taiwan
Tanzania
Thailand
Trinidad
Ukraine

United Kingdom
United States of America
Wales
Copy to Google Calendar
•
Download iCal Event